INSTITUTIONAL CAPACITY BUILDING PROGRAM
The Institutional Capacity Building (ICB) program assists farmers' and fisherfolk's organizations (FFOs) in improving their capacities for delivering financial services. The program seeks to transform these organizations into viable and sustainable financial insitutions with a wide range of financial services for its farmers and fisherfolk members especially in micro finance and livelihood credit.
How The Program Works
The ACPC extends short term (not more than one year) and small grants to eligible intermediary organizations (eg. training institutions, state universities, etc.) for the implementation of ICB projects for FFOs. The grant will subsidize up to 70% of the total project cost. The project proponent (eligible intermediary organization) is required to put up an equity of not less than 30% (except in the case of education/training institutions, where the grant may subsidize more than 70% of total project cost).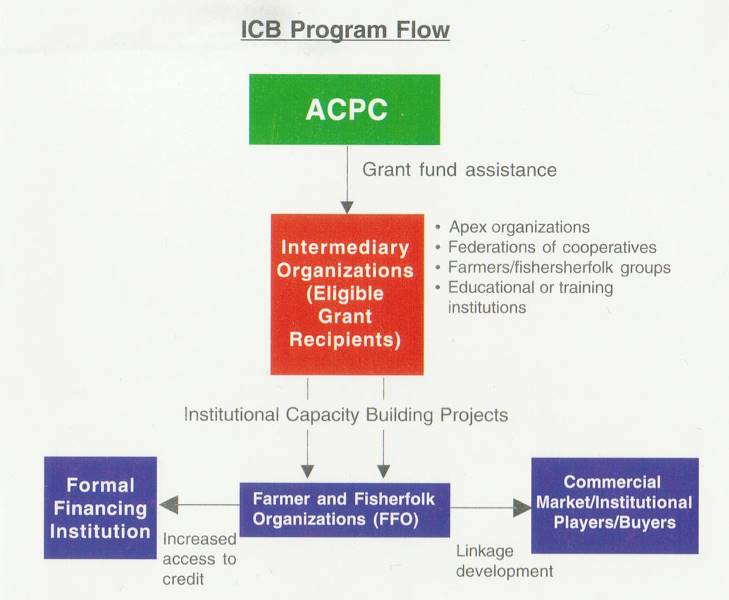 Objectives
To improve FFOs' management systems (includes financial planning and management, credit management and management information systems).
To develop FFOs' human resources (specialized skills training for management and staff) in the areas of credit management.
To develop leadership skills and governance systems in FFOs (includes business policy making, strategic and operational plannin and performance monitoring skills enhancement for the Board of Directors and officers).
Activities Eligible for Funding
Attendance in or conduct of relevant training, seminars/workshops;
Lakbay-Aral or exposure trips to success cases of finance, savings and business development methodologies;
Coaching, consultancy and technical assistance services to beneficiary organizations; and
Management information systems projects (with the exception of harware).
Eligible Recipients of Grant Funds
A. Apex organizations or federations/unions of cooperatives or farmer owned rural financial institutions that meet the following criteria:
with juridical personality (registered with SEC or with CDA);
with at least 3 years experience in organizing and conducting ICB activities;
with at least 10 affiliate organizations; and
with financial and manpower resources to put up the required equity counterpart for the ICB activity to be conducted.
B. Educational or training institutions/organizations the meet the following criteria:
with existing unit or department conducting management training programs/courses;
with at least three (3) years experience in conducting management training programs/courses; and
with existing network to organize and conduct on-site training activities
How to Apply
A. Eligible grant recipients interested to undertake any of the specified eligible activities to benefit FFOs must submit the following to ACP:
1. Board Resolution indicating:
Intent to avail of grant fund assistance for the proposed institution capacity building/program
Approval of its counterpart fund or assistance
Authorized signatories
2. Copy of Registration Certificate, By-Laws and Articles of Incorporation/Cooperation
3. Project proposal based on the prescribed format by ACPC
B. In the cases of state colleges and universities and educational institutions, a project/activity proposal and a copy of CHED accreditation (in case pr private institution) should be submitted to ACPC
For more information, you may contact:
Director Melito M. Montenegro
Office of the Executive Director
+63 2 634-3320/21/26 Trunkline 112
Mr. Alvin Cabato
Project Evaluation Officer V
Institutional Building Capacity Unit
+63 2 634-3320/21/26 Trunkline 112